As the holiday season gets closer, it's essential to be aware of potential scams that could affect your online security. Holiday phishing scams are becoming common tactics. It is used by cybercriminals to gain access to confidential information and funds.
During the holidays, hackers target unsuspecting consumers with special offers, discounts, and promotions that can seem too good to be true—and usually are! This article will discuss the Top 7 Holiday Phishing Scams of 2022 and how organizations can prevent holiday phishing scams.
Subscribe to Our Newsletter On Linkedin
Sign up to Stay Tuned with the Latest Cyber Security News and Updates
What Are the Examples of Holiday Phishing Attacks?
Cybercriminals know that people are busy and distracted during the holidays, making them more likely to fall for scams. According to the FBI, holiday phishing scams cost victims more than $400 million in the US alone in 2021. However, the holiday season of 2022 won't be any different. Here are four examples of holiday phishing scams to watch out for:
Fake Holiday E-Cards
These emails look like they're from a friend or family member sending you a festive e-card. But when you click on the link, you'll be redirected to a website. And they are infected websites, which will harm your devices.
Phony Holiday Gift Card Offers
Phony holiday gift cards, emails, or ads that promise free holidays from popular retailers. However, when you click on the link to claim your card, you're taken to a fake website that collects your personal information – which can then be used for identity theft.
Bogus Holiday Travel Deals
Watch out for emails or ads promising cheap holiday travel deals. These are often scams designed to collect your personal information, which can then be used for impersonation attacks or sold to third-party marketers.
Malicious Holiday Email Attachment
Be wary of email attachments from people you don't know, even if they seem to be related to the holidays. They could be infected with malware that can damage your computer or steal your personal information.
Being aware of these holiday scams can help keep yourself and your family safe from cybercriminals this holiday season.
Types of Holiday Phishing Scams
Phishing is an increasingly common and dangerous cybercrime that affects individuals, businesses, and organizations worldwide. It is important to understand the various types of phishing attacks out there. Let's look at the various types of phishing scams so you can stay informed and safe from malicious actors.
Spear Phishing
When using a fishing pole, you may catch flounder, bottom feeders, or trash below the water's surface. You can pick out a specific fish to target when spearfishing. Spear phishing targets a particular group or individual within the organization. Note the attention paid to the recipient's profession; ask them to click the download link and request a quick response.
Whaling
Whaling is a more specialized form of phishing that targets whales, which are bigger than fish in the ocean. These attacks frequently target a CEO, CISO, or CIO within an industry or particular company. According to the whaling emails, the company might be subject to legal consequences, and you have to click the link to learn more. The link directs you to a page where you must enter critical data about the company, like the tax ID and bank account details.
Smishing
The term "smishing" refers to executing an attack that uses SMS, or text messaging. A smishing technique is to deliver holiday phishing messages by SMS to a cell phone with a clickable link or a return phone number.
A typical instance of a smishing attack is an SMS message that appears to have come from a bank. It informs you that your account has been compromised and that you must respond immediately. They ask for confirmation of your bank account number. As attacker has the information, they control your bank account.
Vishing
The aim of vishing is the same as other phishing attacks. Here, attackers are still looking for your private or business information. They accomplish this attack through voice calls. A typical vishing attack is a call from a person claiming to be a Microsoft representative. This person warns you that they have detected a virus on your computer. The attacker will ask for your sensitive information, which they will use against you. The malware may include anything from a bot to a banking Trojan (short for robot). A bot is programmed by hackers to perform specific tasks. 
Email Impersonation
Hackers pretending to be someone else in emails are known as email impersonation attacks. Here, attackers mainly target employees of an organization, as they are its most vulnerable asset. Attackers trick them into transferring sensitive data or revealing login credentials for malicious purposes. Some examples of email impersonation include posing as the organization's CEO, a representative of the government, or a senior executive.
How to Identify Holiday Phishing Scams?
In holiday phishing scams, holiday scammers send phishing messages or emails over the holiday season. In which they offer special discounts or claim that your account has been stolen while masquerading as representatives of companies like Amazon or Apple. Let's talk about some warning signs of holiday phishing scams.
You receive unexpected

holiday fraud messages

that show a special offer. It would help if you were careful of any email or text message you didn't ask for.

Phishing scams trick you into a fake website or attack your device with malware.

Other signs of a

holiday phishing

scam include unusual spelling, grammatical, and formatting errors.
You can stay safe by ignoring emails and texts you are unfamiliar with. If in doubt, log into your account or contact the company to verify the message's authenticity.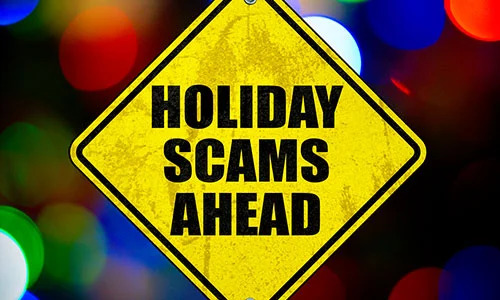 Top 7 Ways Holiday Phishing Scam 2022
Holiday phishing scams are becoming more and more common. Here are the top 7 ways in which these scams take place:
Scammers send out fake emails or texts pretending to be from a well-known company or organization. They may ask you to click on a link or open an attachment to update your information or to confirm a purchase.

Holiday scammers

create fake websites that look identical to the real website of an organization. They may use a similar domain name or a slight misspelling.

Scammers pose as a friend or family member on social media and send you

holiday fraud messages

with a link to a website. They may say they found a great deal or a funny video.

Scammers call you on the phone and pretend to be from a government agency or a company you do business with. They may say there is a problem with your account or that you need to confirm some personal information.

Also,

Holiday scammers

send you a letter or postcard in the mail. They may say you've won a contest or a free vacation.

Scammers place ads on websites or emails that look like they are from a trusted source. They may offer a great deal on a product or service.

Scammers set up fake Wi-Fi networks in public places like hotels or airports. They may call the network something similar to the name of the place. Once you connect, they can access your personal information.
Be aware of these scams, and don't let yourself be a victim. If you need clarification on an email, text, or phone call, don't respond; contact the organization directly to verify.
How Can Organizations Prevent Holiday Phishing Scams?
Organizations use the right tools and safeguards to prevent holiday phishing attacks from reaching employees' inboxes. Here are some points:
Installing security software is the first line of protection against

holiday phishing scams

. Programs like firewalls, spam filters, and antivirus software successfully prevent

holiday phishing

attacks. Also, organizations implement

phishing incident response

tools to avoid these attacks.

Keeping software up to date with the most current security patches and updates reduces your risk of getting caught in a phishing scam. Also, keep an eye on the condition of all software, such as security and operating system software.

If you have remote employees, establishing BYOD (Bring Your Own Device) policy is essential for protecting your email against

phishing attacks

.

Scheduling regular backup plans helps the user ensure that the data will be completely recoverable in an emergency.

The first and foremost way to

keep your password safe

is to ensure it is strong, extremely complex, and impossible to guess. This is the best method to keep it secure. In some cases, the strength of your password may be the only thing stopping hackers from accessing your sensitive data.

There are multiple techniques hackers use and not everybody knows about them. Therefore, it is necessary that every organization should start

employee security awareness training

.
Final Thoughts: Holiday Phishing Scams
In summary, holiday scams seriously threaten your online security and personal information. With knowledge, diligence, and proper precautions, we can prevent holiday fraud from taking advantage of sending holiday phishing messages to us during the holidays.
It is important to stay vigilant and be aware of the signs of a phishing scam to avoid becoming a victim. Don't forget to educate yourself and those around you about this growing problem, and report any suspicious activity to your local authorities.