As per IBM, 95% of the cyber attacks are caused by human error.
What is Cybersecurity Awareness Training for Employees?
The concept of cybersecurity awareness training for employees is to train and educate the employees about all the security practices that must be followed. Basically, the purpose of security awareness training is to make employees aware of various cyber attack vectors that are dangerous for organizations worldwide.
Only 31% of all the employees receive cybersecurity awareness training.

(Source: Small Business Trends)
The employees are an integral part of every organization and they handle several devices at the workplace. These devices are often secured with tools such as firewalls or antivirus software. These devices are also protected by credentials that are used for accessing them. The threat actors are involved in suspicious activities such as phishing, manipulating, luring, and baiting to get access to credentials or provoking them to download infected files.
Get the Best Cybersecurity Awareness Training Solution!
It is a crucial aspect of cybersecurity awareness training to educate employees about possible measures that a malicious actor could use. The training provides information on various attack vectors and case studies of infected employees. The training also provides knowledge and awareness about cybersecurity practices, such as how to set strong passwords, practices to secure credentials, etc.
Types of Cybersecurity Awareness Training
Based on the attack vector and approach of a particular attack, there are some categorical cyber attacks. These cyber attacks, which are based on human errors or unawareness, can be prevented by awareness training. Thus, each type of cybersecurity awareness training is meant to prevent a particular set of cyber attacks. These are mentioned below.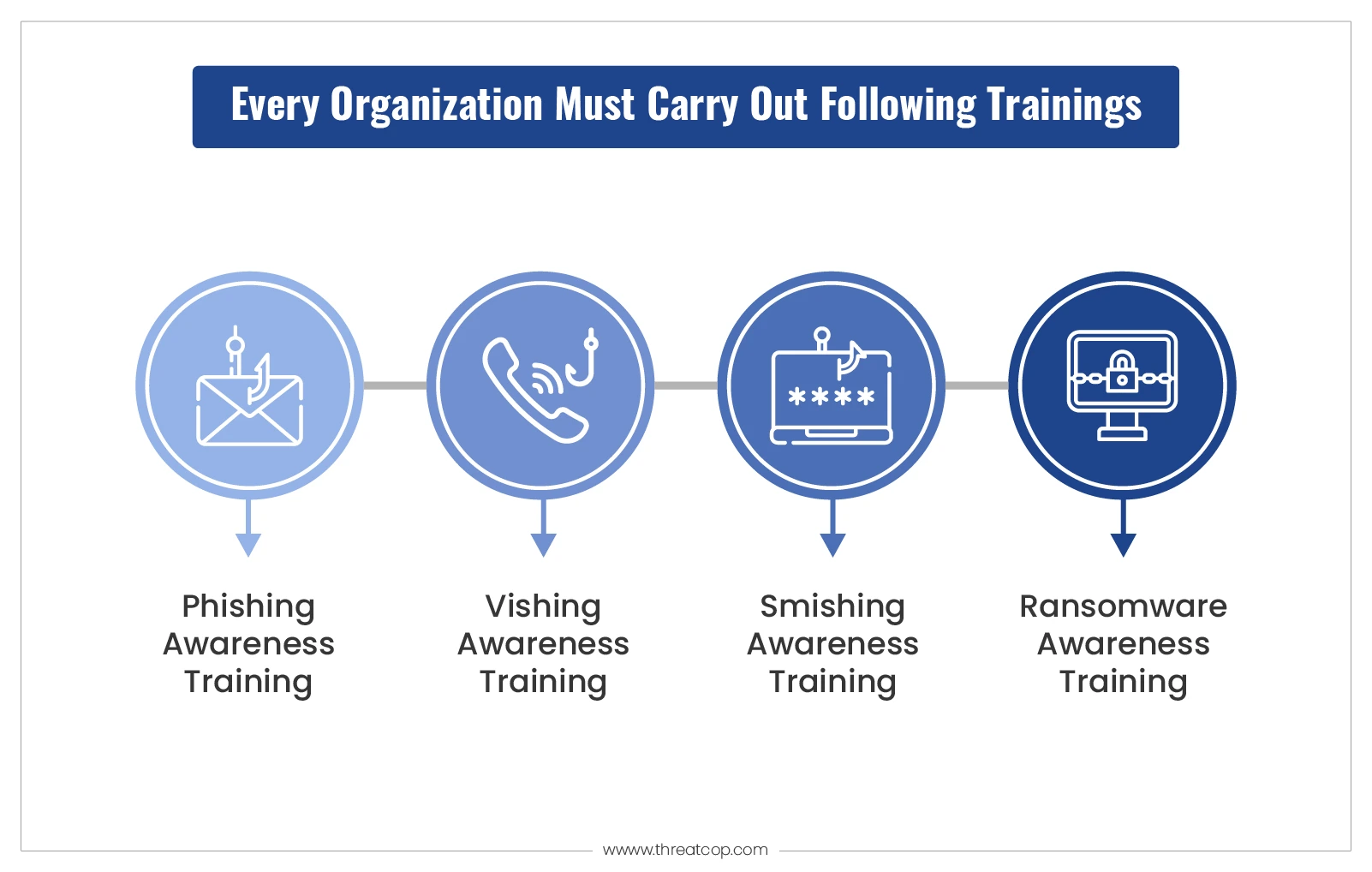 Phishing Awareness Training
Email is the medium of delivering 92% of malware.
A phishing attack is the most common and widely used form of social engineering attack. Phishing attacks are largely carried out through emails, where threat actors pretend to be someone authentic and lure the victim into clicking on a link to a phishing website, sharing private information, or downloading an attachment that contains malware.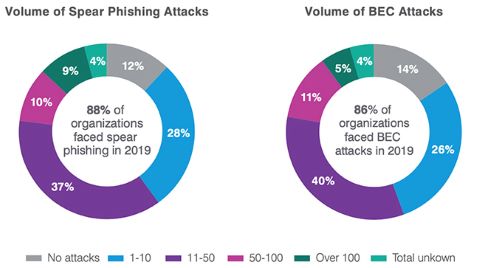 Phishing awareness training is a way to educate employees about the ways in which a threat actor can lure the targeted individual to reveal crucial information. The purpose of phishing awareness training is to prevent every kind of phishing attack. This training enables the employees to learn about different mechanisms employed by cybercriminals.
Vishing Awareness Training
A voice call phishing scam is a kind of social engineering attack based on the concept of phishing. In this attack, the cybercriminal lures the target over the phone, provoking them to reveal credentials or share their OTP.
There has been an enormous increase in vishing attacks in the last few years. According to the SSL Store, in 2017, scam calls were 3.7% of all incoming calls, and in 2018, this portion increased to 30%. This can incur an immense financial loss for the organization.

Thus, vishing awareness training is a systematic way of learning about the possible ways in which attacks can be launched. This training is provided to employees in order for them to be able to avoid making misleading phone calls.
Smishing Awareness Training
SMS phishing, also known as smishing, is a traditional and still widely used method of social engineering attack. In this attack, threat actors send a text message to a target, containing a malicious link or luring offer. Recently, OCBC Bank in Singapore went through a series of SMS phishing scams in which 790 customers lost $13.7 million.
According to a statistic by Safety Detectives, 35% of the population doesn't know about SMS phishing scams, and in 2020 alone, there was a rise in SMS phishing scams by 328%.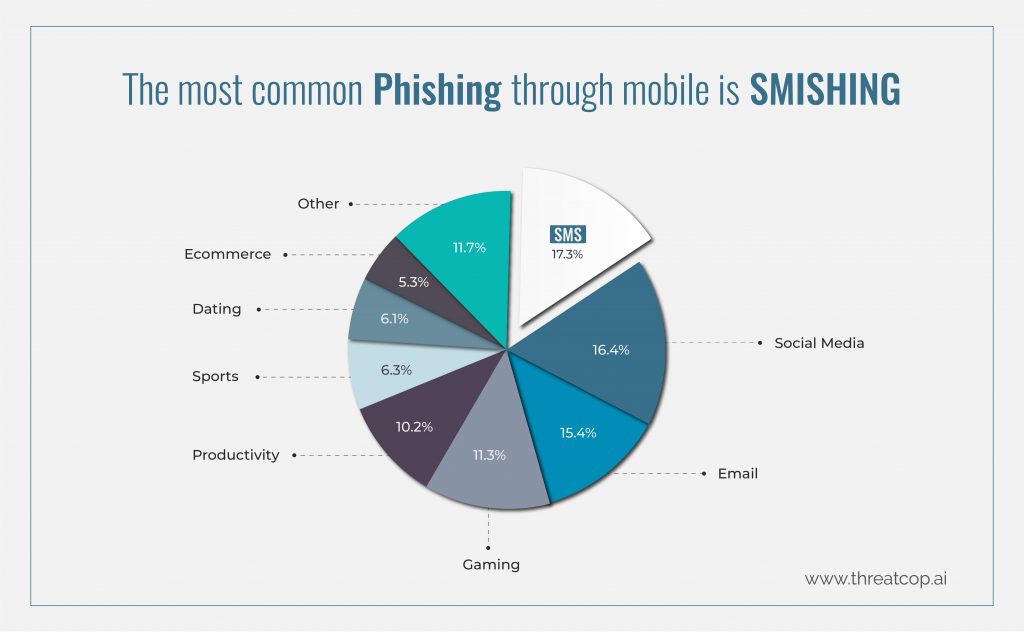 The smishing awareness training is directed at informing the employees about the types of malicious text messages that are commonly sent. The training also involves educating the employees to take the necessary steps to report such contact numbers and text messages.
Ransomware Awareness Training
Ransomware attacks are the leading cause of major financial losses due to cyber attacks. In the first half of 2021, around 1097 organizations were hit by ransomware attacks. The average demand for ransom has increased from $5,000 in 2018 to $200,000 in 2020.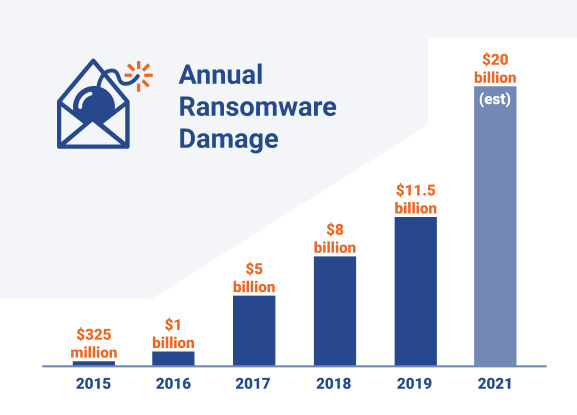 The purpose of ransomware awareness training for employees is to educate the employees about malware and how it is commonly delivered. After being educated on the concepts and attack mechanisms of malware, employees are taught about the method by which cybercriminals induce target victims to download attachments.
Risk Awareness Training for External Devices
Removable media is common for sharing and transferring information within an organization's workspace. There are several kinds of portable devices that allow the employees to store important files or folders without carrying the whole device (PC or laptop). But the same external device could be used as a storage device for malware or malicious software.
The notion of reducing risks that can be delivered through removable devices is mainly carried out through antivirus or computer security tools. But there are certain sets of practices that are a part of employees' vigilance. These practices are based on certain precautionary measures while handling and using removable devices.
Plan of Action for Cybersecurity Awareness Training
We have already gone through the importance and types of cybersecurity awareness training. Let us now go through the series of actions that should be taken in the form of a planned strategy to conduct awareness training for employees.
1. Development of a Constructive Attitude among Employees
It is very important to create a strong, constructive attitude towards cyber resilience among employees. Organizations need to install a framework to integrate cybersecurity among their employees.
Organizations need to popularize encouraging stories about the healthy and digital lifestyles of employees. It basically involves a set of best practices that the employees in the stories have incorporated to take control of their digital lives.
2. Enhanced Interaction between the IT Department and Employees
Most of the employees have a cordial relationship with their IT department. And it has also been found that these employees obey the instructions and guidance of their IT department. The organization's owner needs to ensure that their IT team consistently provides the necessary guidelines to other employees for cybersecurity awareness. The owners should install a framework allowing more interaction between employees and IT officials.
3. Investment in Personnel Awareness
Organizations are already making huge investments in product development and brand promotion. Businesses need to make suitable investments to continuously improve the knowledge and awareness of their employees.
4. Concentrate on Threat Reduction in an Amusing Way
The programs and activities that are based on cybersecurity awareness must be entertaining and interactive. An awareness program should demonstrate the activities for threat reduction in a pleasing and funny way. The learning modules should be related to the lives of employees, such as their home safety, privacy scenarios, device security, etc. The elements of cybersecurity must be integrated into daily work in the office and organization.
5. Specific Training for Custom Roles
Every employee should have defined roles and responsibilities. This will allow organizations to define separate layers of accessibility and distribution of credentials. So, during employee awareness training, a special emphasis should be given to their roles for specific requirements of defense education.
6. Practicality and Accuracy in Cyber Awareness
The notion of cyber awareness must be the responsibility of senior management. They should incorporate the value of cybersecurity by directly communicating with employees. The organization can implement customized policies and awareness documents in their organization. The parameters of customization are essentially effective for dynamic situations such as working from home.
So, organizations need to incorporate awareness policies and training considering the dynamics of the working environment. This must be done with accuracy and be updated with the latest scenario. This will allow the employees to become aware of the latest developments in the cybersecurity domain.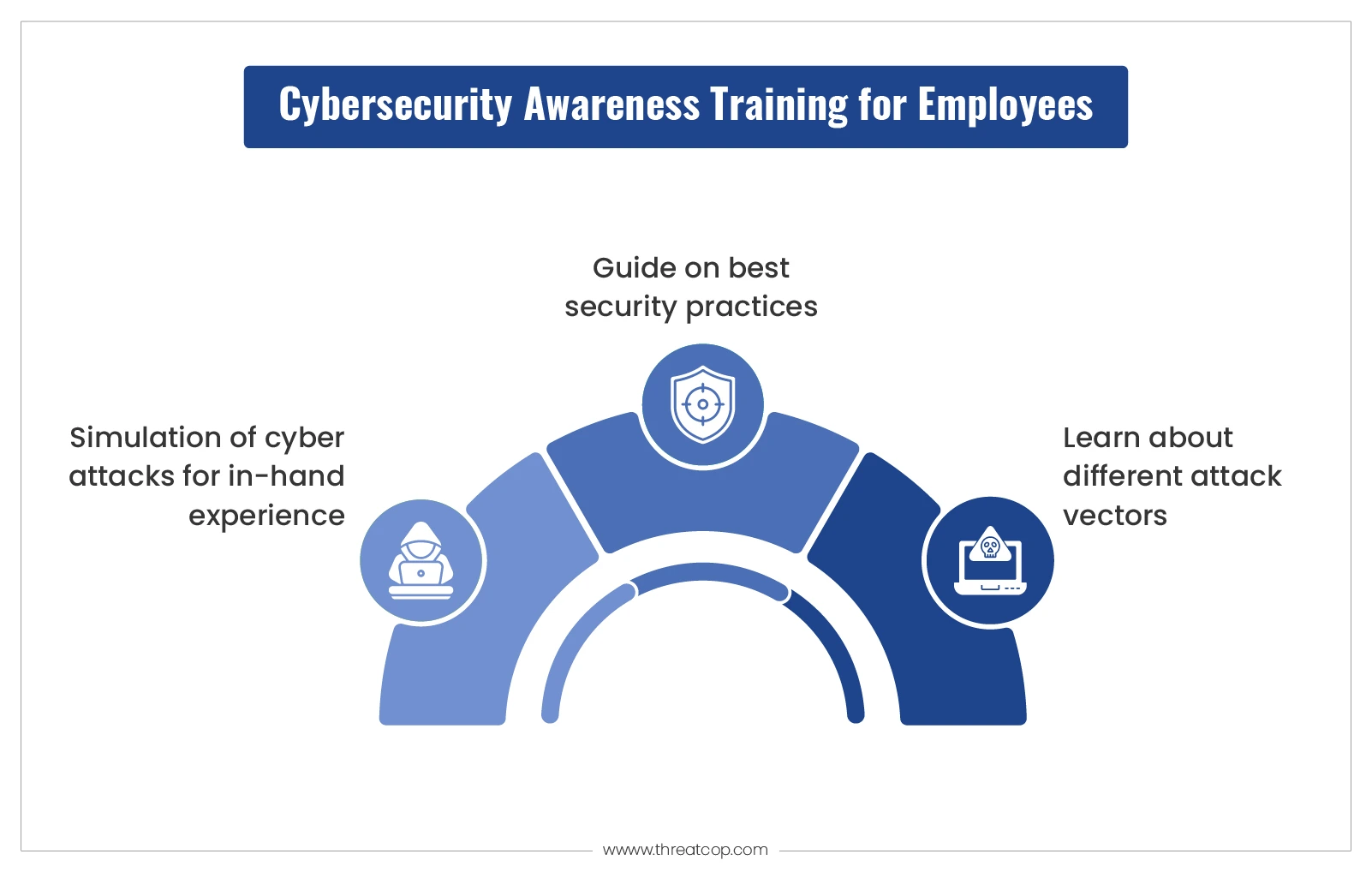 How is Cybersecurity Awareness Training for Employees Done?
Every organization needs to conduct cybersecurity awareness training for employees, which is done in three categorical steps. These steps contain a comprehensive mechanism to deliver knowledge and learning about cybersecurity.
Step 1: Cybersecurity Simulation
The technical aspect of cybersecurity simulation is to replicate the complete IT setup of the organization and conduct an evaluation of its response to a simulated cyber attack. It is an essential element of comprehending the level of vulnerability in an organization. The vulnerabilities will be considered to customize learning management systems. Then, the LMS will be used to deliver the main educational content.
The cybersecurity simulation is meant to comprehend the strength of an organization's defenses and explore the vulnerabilities at an employee's level. The simulation explores the real-world threat and how the employees will respond. This will help the learning management system tool prepare the key ingredients for knowledge sessions for employees.
Step 2: Knowledge Session
In this step, the LMS tool delivers all the necessary and comprehensive sets of information to employees. This set of information can be documents, notes, interactive videos, gifs, etc. The knowledge session is meant to educate employees and, at the same time, improve their understanding through constant quizzes and exploratory questions.
The knowledge session is divided into a categorical form that presents the knowledge in the form of interactive games and practical tools to prevent cyber attacks. The main deliverable of the knowledge session is to enhance the ability of employees to repel cyber attacks and become vigilant in identifying every kind of social engineering attack.
Step 3: Interactive Assessment and Analysis
This step is the most important part of cybersecurity awareness training. In this step, the LMS tool will evaluate the employees through quizzes and assessments. These assessments will showcase the level of knowledge of the employees and pinpoint where they are lacking.
All of the results are then analyzed to find loopholes and provide the reformatory mechanism to conduct a periodic cycle of cybersecurity awareness training for employees. The analysis will be presented to the senior management of the organization so that they can know the status of their employees.
Impact of Cybersecurity Awareness Training
When cybersecurity awareness training of employees is conducted properly, then there are some expected outcomes of the training. They are mentioned below.
Increased Vigilance: A complete cybersecurity awareness training installs confidence among the employees to repel cyber attacks. An increase in employees' vigilance is extremely important for preventing people-based cyber attacks.
Strong Defense: Organizations invest a good amount of money in securing cyber infrastructure with firewalls and antivirus. But this defense is only up to machine level. Employees' cybersecurity awareness training will increase the defense to an unprecedented level. This training will prevent attacks from occurring due to human error and unawareness.
Regulatory Compliance: Nowadays, many governments and international organizations have developed a certain level of regulatory standards, which itself describes the organizations' abilities to prevent cyber attacks. Thus, every organization needs to carry out security awareness training to make sure that they are up to the mark in accordance with international standards.
ThreatCop Security Awareness Training (TSAT)
Every organization needs to train its employees so that they can become aware and vigilant. But for many organizations, there is always a concern about seeking appropriate tools or products that could provide them with comprehensive and overall training.
ThreatCop Security Awareness Training (TSAT) is an exceptional tool that comes with a cybersecurity simulation feature and an advanced LMS (learning management system). The other notable features of TSAT are:
Analyzing the organization's cybersecurity health

Simulate six main types of human-based cyber attacks

Extensive employee assessment

Educate employees on every aspect of cybersecurity they should know

Regular monitoring and analysis of results.