For cybercriminals, ransomware as a service has grown to be a thriving and wealthy industry. These cybercriminals frequently coordinate their cyber attacks with malware creators. This strategy for countering a ransomware assault has a significant and compounding effect. The dark web is where most RaaS tools and services can be found.
The most significant aspect of Ransomware as a Service (RaaS) attacks is that they have evolved into an illicit business with a sound business plan. Threat actors, often referred to as affiliates, frequently lease, or sell their malware to other cybercriminals in exchange for a cut of the fraudulently obtained ransom money.
Subscribe to Our Newsletter On Linkedin
Sign up to Stay Tuned with the Latest Cyber Security News and Updates
What is Ransomware as a Service (Raa

S)?
Ransomware as a Service (RaaS) refers to a business model in which ransomware operators charge affiliates to conduct ransomware attacks devised by the operators. Consider RaaS as a subset of Software-as-a-Service (SaaS).
RaaS kits might be useful for affiliates who lack the knowledge or time to create their own ransomware variants. They are available for purchase on the dark web, the same as other goods online.
Ransomware as a Service (RaaS) kits provides features like forums, bundled deals, 24/7 support, customer reviews, and other services that real SaaS firms offer. Ransomware service kits are inexpensive when compared to typical ransom demands. A threat actor will not really need to have a successful attack in order to become wealthy, even if not every assault will be successful.
How Does Ransomware as a Service (RaaS) Work?
In order to execute a successful Ransomware as a Service (RaaS) attack, developers and affiliates must work together. The ransomware that was delivered to an affiliate was created by developers. The developers also include instructions on how to launch the assault with the ransomware code. RaaS is easy to use and doesn't require much technical expertise. Those with access to the dark web may log on, join an affiliate, and initiate attacks with a single click.
Affiliates first select the type of virus they wish to propagate and make payments using money, typically Bitcoin. When the attack is successful and the ransom is paid, the developer and the associate divide the profits. The allocation of funds is determined by the revenue model.
Ransomware as a Service (RaaS) has four standard revenue models:
Monthly subscription service for a flat fee.

Affiliate programs, it is like a monthly fee model but there is a particular share of the profits (usually 20% – 30%) that ransomware developers as for.

one-time license fee and no profit sharing.

Pure profit sharing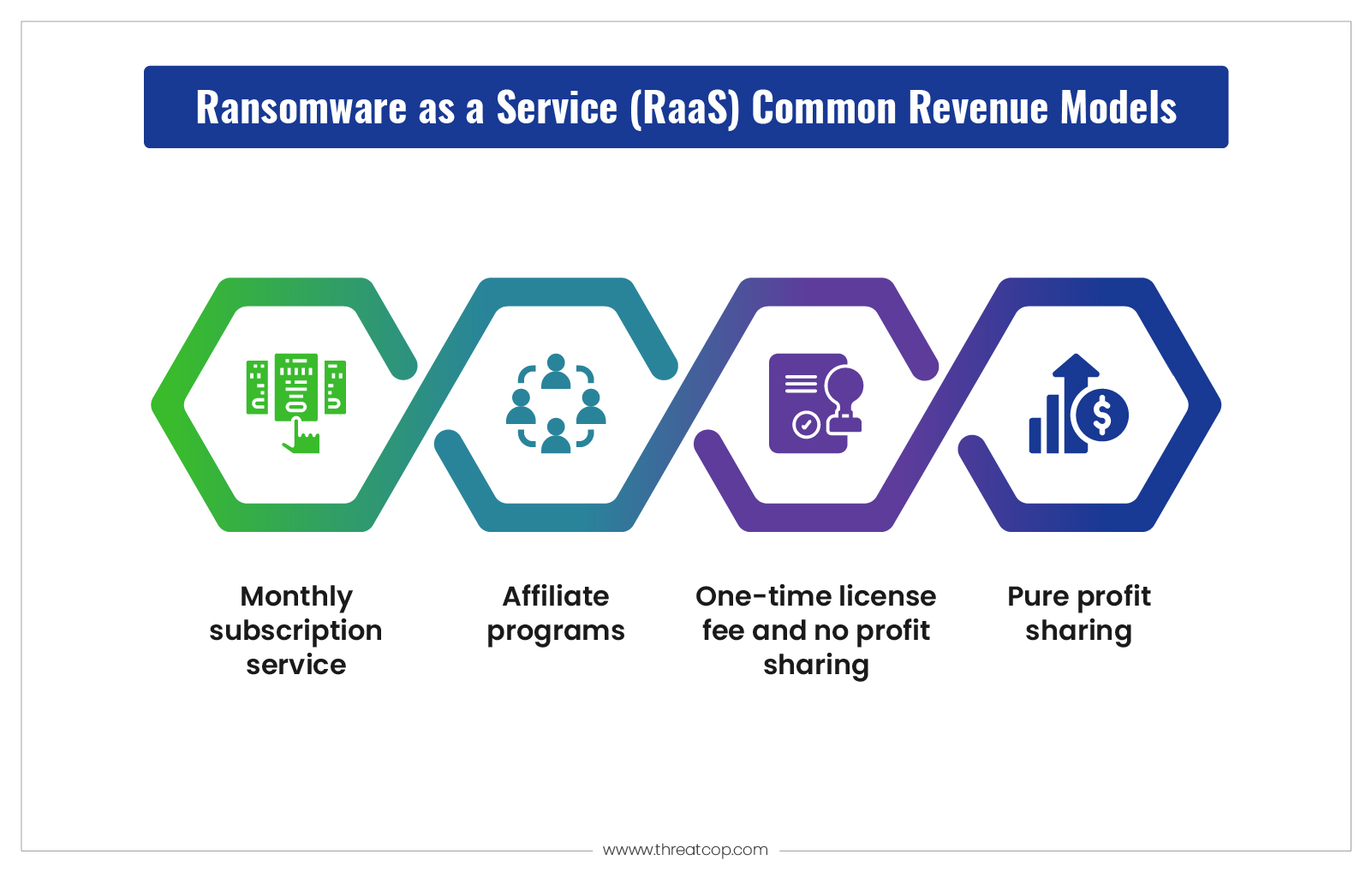 The ransomware service market is competitive. RaaS providers not only have portals but also websites and marketing campaigns that closely resemble your organization. They tweet frequently and have videos and white papers.
Five years have passed since Cybersecurity Ventures published a report estimating that the cost of ransomware damages would rise to $5 billion USD in 2017 from $325 million in 2015. Damages were expected to total $8 billion in 2018, $11.5 billion in 2019, and $20 billion in 2021, which is 57 times more than in 2015. These ransomware statistics prove that ransomware attacks are becoming more dangerous year by year.
Who Uses Ransomware as a Service (RaaS)?
Many Ransomware as a Service (RaaS) providers are particular about how they market their products. They could seek out highly accomplished clients who would set and achieve lofty goals since doing so would be great PR for their company. Other requirements may be that you speak a certain language or have quick access to the service in order to start receiving proceeds from the ransomware.
Others are willing to work with any individual as long as they can be paid or get paid through ransoms. For RaaS kit providers, this poses some risk because some customers will certainly be a bit gullible and fall victim to the ransomware attack.
Some RaaS providers have become more selective in recent years about which areas their customers are allowed to attack. They might ban attacks on hospitals or other critical infrastructure because they could hurt or even kill people. Because of these serious examples, the RaaS market receives unwarranted attention, and RaaS suppliers can feel morally conflicted about altering people's physical conditions.
Whatever model customers select, some ransomware service providers make it quite simple to reach out to them. Organizations can find them through:
Go to the darknet.

Log in.

Create an account.

Select a model.

Pay with Bitcoin if necessary.

Distribute malware.

Wait for the work.
This business model is so appealing to inexperienced hackers that rather than building new malware, they rent it out and split the ransom money.
Unfortunately, technical skill is no longer required to carry out a ransomware assault. Since the ransomware kits have enabled amateurs to launch destructive attacks on an unprecedented scale.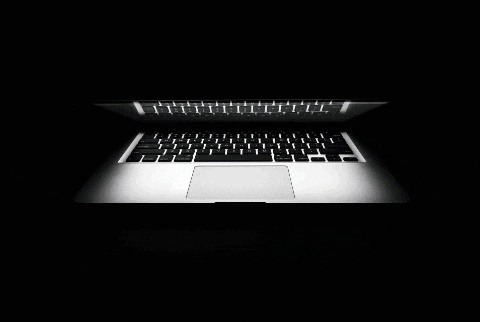 Examples of RaaS
Known ransomware groups that use the Ransomware as a Service (RaaS) model to distribute attacks. The market for RaaS is dominated by companies like Conti, DarkSide, REvil, Lockbit, and Dharma.
DarkSide
DarkSide has been recognized as a RaaS business connected to the eCrime group CARBON SPIDER. DarkSide operators have recently turned their attention to Linux, concentrating on business settings that use unencrypted VMware ESXi hypervisors or steal vCenter keys. DarkSide operators have typically targeted Windows PCs.

The

Colonial Pipeline outbreak

contained the DarkSide virus, the FBI officially declared on May 10. Following the theft of almost 100GB of data from their network by a DarkSide affiliate, Colonial Pipeline apparently paid the group more than $5 million.
REvil
REvil ransomware

often referred to as Sodinokibi, has been identified

that they are one of the sources

of the largest ransom demands ever. It is provided by the criminal organization PINCHY SPIDER, which sells RaaS via the affiliate model and often retains 40% of the profits.

PINCHY SPIDER alerts victims of a planned data breach via a blog post on their DLS, often with the dataset as proof, and then releases the remaining data after a predetermined period of time. The ransom message from REvil will also contain a hyperlink to the blog post.

The link depicts the leak to the affected person before it is publicized. When you follow the link, a timer begins, and the information is released when the timer expires.
Dharma
A notorious Iranian terror cell has been linked to the Dharma ransomware outbreaks. This RaaS has already been accessible on the dark web since 2016 and is mostly used in RDP assaults. Attackers often seek 1-5 bitcoins from victims in a variety of industries. Unlike REvil and other RaaS kits, Dharma is not centralized.

A few more RaaS portal choices, along with encryption keys, were the only changes. One Dharma attack cannot reveal much about its attack's background or how it works since all of them are similar.
LockBit
LockBit has been under development ever since September 2019. It became accessible as a RaaS and is offered to Russian-speaking users or English speakers who have a Russian-speaking guarantor.

A LockBit affiliate promised to disclose data on a major Russian-language criminal website in May 2020. Beyond the threat, the associate provides evidence, such as a snapshot of a sample document contained among the victim's data.

After a certain number of days have passed, the associate is known to provide a mega[.]nz link to retrieve the stolen victim data. This affiliate has reportedly threatened to release information on at least nine victims.
How to Prevent Ransomware as a Service (RaaS) attacks?
It is best to avoid ransomware attacks altogether because their recovery is time-consuming and expensive. RaaS is simply ransomware kits. It can be used by anyone with malicious intent, and the steps to prevent a RaaS attack are the same as those to prevent any ransomware attack.
Cybersecurity Practices
Ransomware attacks are almost always the result of phishing, so you should train your staff to recognize these attacks. The first and weakest line of defense is company employees. Your organization should conduct ransomware simulation and awareness training from time to time for the benefit of the company.
Backup Data Regularly
A RaaS attack typically focuses on confidential and private data. Hackers compromise systems and demand ransom in exchange for the release of data. RaaS attackers won't have much power in their hands if your organization backs up the data. As a precaution, back up the data on an external hard drive rather than solely relying on cloud storage.
Keep Software Up-to-Date
Maintaining the most recent version of any system or software is another effective way to thwart Raas attacks. Cybercriminals are eager to take advantage of systems running outdated versions because they know the loopholes. Software updates also improve network security by fixing bugs and patching security holes.
Employee Security Awareness Training
RaaS attackers frequently deceive victims by sending phishing emails with harmful links and attachments. Employees should already know to avoid any malicious emails or messages from unknown sources. To prevent cybercrimes in your organization, implement employee security awareness training.
Zero Trust security
Accepting a device, IP address, program, or other item necessitates a comprehensive study. In general, everything related to your IT. Various tactics may be used to accomplish this, such as enabling apps to be listed on a system and carefully monitoring the network.
Principle of Least Privilege
To minimize the damage caused by ransomware, it is recommended that as few users as possible be given access. Any information a user can access will be accessible to a criminal who breaches that user's security.
The level of access granted to system administrators should not be the same as that granted to junior team members. Administrators may not have effective access to CEOs. Data should be limited to employees.
Final Thoughts: Ransomware as a Service (RaaS)
With the increase in cybercrime, ransomware attacks are also evolving. Even there is a ransomware as service in the market as well, known as RaaS. RaaS attacks will become more prevalent and well-being among cybercriminals in the future.
Over 60% of cybercrimes are RaaS based. It is becoming more and more popular because of its easy implementation and availability. This brings us to how training for all employees is essential. Here at Threatcop, you can learn how a firm should focus on increasing the cybersecurity level of its systems and train its staff to defend against cyber attacks.
The key is to provide personnel with regular ransomware awareness and simulations. It provides them with information and skills through a real-time ransomware simulation campaign and awareness training, as well as by monitoring their performance and giving them more training as needed.
FAQs: Ransomware as a Service (RaaS)
What is the Definition of a Service Business?
A service business explains how you generate and deliver value to your clients by providing a service to your clients. From wedding photography to massive software development projects, a service firm may provide any form of B2C or B2B service.
What exactly is Ransomware-as-a-Service (RaaS)?
The term Ransomware as a Service (RaaS) refers to a subscription-based model that allows affiliates to carry out ransomware attacks using pre-made ransomware kits. In these kits, a portion of the profits goes to the ransomware service providers.
How much does Ransomware as a Service cost?
Ransomware as a service can cost anywhere between $40 and several thousand dollars. It is determined by the model chosen. These ransomware kits are easily available on the dark web, so anyone can buy them.