Nowadays, people and well-known organizations are opting for security awareness training after realizing how useful it can be. Frequent and effective security awareness training makes a big difference for an organization.
According to the IBM Cyber Resilient Organization Study, security training is cited by 84% of top organizations as a critical component of cyber resilience in 2021.
Employees are the first and last line of defense against any possible cyber attacks. To resist and avoid negligent and intentional insider threats, educating employees about security is essential. The usefulness of this training is frequently called into question as it becomes increasingly apparent that so many cybersecurity awareness programs fail to accomplish their desired results.
This blog is geared towards raising awareness of all aspects of security awareness training and how beneficial it could be from the organization's perspective. 
Subscribe to Our Newsletter On Linkedin
Sign up to Stay Tuned with the Latest Cyber Security News and Updates
What is Cybersecurity Awareness?
Cybersecurity awareness is a mixture of older information and newer discoveries in cybercrime and cybersecurity practices. This has to be an active and hands-on approach. They have to work on these approaches constantly. It includes different protocols to handle the systems. These protocols can be for password settings, authentication, privacy, and more.
There are specific protocols that an organization needs to abide by under national and international laws. These need to be worked on together by the IT team. The standard for these protocols does keep changing, and the team needs to work on them collectively.
The information technology department of any organization is the most robust line of defense against phishing, malware, ransomware, bugs, viruses, and any other problems that may come your way. These cybersecurity awareness programs will allow them to improve their skills and learn better ways to tackle these problems.
Continuous programs will make this training a lot more efficient. This is the ultimate goal of these programs. More than learning new techniques, the existing system needs to be tested repeatedly. Over time, you can isolate glitches and bugs in the system. The knowledge your team has needs to be applied to the existing systems. Newer techniques will only work when you know how to apply them in the field. 
What is Security Awareness Training?
Effective security awareness training is a strategy that most IT and security personnel use to prevent user risk and strengthen servers against other risks. This gives an efficient approach to cyber risks' everyday problems and protocols. Employees who have received effective security awareness training are better able to recognize cyber attacks, which they may confront via email and the web, as well as the proper cyber hygiene to practice. Most errors and glitches in servers occur as a result of human error.
Learning different cyber protocols and receiving effective security awareness training will ensure the information technology team takes care of problems before they arise. Since the risk of human error is so high in cybersecurity, you must ensure that your team is always the best. There are many ways to measure the effectiveness of security awareness programs. You can put your team through these training programs and their various tests.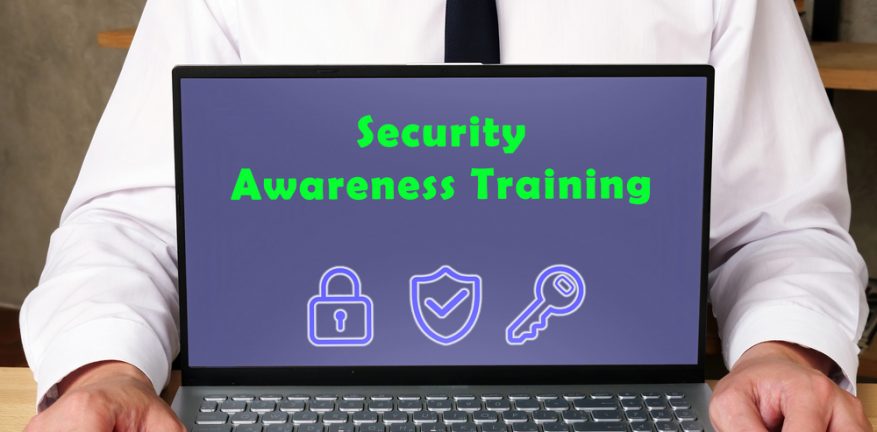 Why is Effective Security Awareness Training Essential?
The most significant risk and area for error today is human negligence. This is one of the biggest reasons for cyber warfare, which has evolved to be less dependent on individuals and groups. Creating malware that could affect a server at multiple levels is easier, but securing one without the proper knowledge is not. Therefore, effective security awareness training has to evolve.
IT professionals have to tackle the problem before it arises. Effective security awareness training will allow you to understand the performance gaps. It is a very internal process. The organization must devote time and resources to avoid all its glitches and problems.
They are providing a safer avenue for everyone engaged with your organization. They are the line of defense you need for security against cybercrime. These workouts will allow your team to get stronger over time.
How to Improve Security Awareness Training? 
It is no secret that a social engineering attack like phishing or spear phishing is the origin of many incidents. Therefore, it is wise to make sure that employee security awareness training is implemented. IT professionals deal with the same problems daily. They don't need a recap of any technique or code. Cybercrime is fast and innovative, so we need to be faster and even more creative.
In addition, typically used techniques to accomplish effective phishing awareness and simulation.
Best Way for Effective Security Awareness Training
Phishing and downloads, ransomware, email impersonation, and stolen online personas are all part of cybercrime. They do not have a long history of existence. This implies that they will have many variations and combinations, which can be potentially harmful to the organization. 
The most severe risks to the company are posed by those who have access to sensitive data. By evaluating employee behavior, the organization needs to take better steps to secure itself. As a result,  most firms fail to focus on their workers, which leads to people abandoning their jobs or making a foolish decision to steal and sell the company's critical data in order to gain money. Make sure to create a policy related to company data, like not bringing your own desktop, and access to company networks only limited to company assets.
Implementing a security awareness program involves constantly testing out existing security structures. Organizations can run phishing schemes and bugs throughout the system. Using hyper-realistic problems will make the team respond to the problem accordingly. These protocols can be achieved with a tool like TSAT from Threatcop.
Final Thought: Effective Security Awareness Training
Cybercrime can only be tackled when we have the right kind of people taking care of the servers and data clouds. The only possible solution for the long run is effective security awareness training, which comes down to training employees frequently, by using engaging material, covering important topics, and measuring the impact. Constant engagement with technology and newer innovations in cybersecurity are what will ensure permanent solutions. For example, increased awareness has shown a dip in phishing scams at the level of organizations and individuals alike.
To assist in setting up security awareness training quickly and affordably, we've put together a comprehensive guide.
FAQs: Effective Security Awareness Training
How can an organization conduct cybersecurity awareness training?
Organizations need to engage with the latest technologies and solutions to tackle cybersecurity. These cyber attacks are still evolving with time and improved technologies. This means new and improved cybersecurity practices need to be implemented.
What should be the response time of any security team to a cyber attack?
The servers will detect a bug or any attempts at physically infiltrating the servers or firewalls. However, the security team needs to physically work on treating these bugs. Servers, in general, are quite stable, but they are not able to clear bugs on their own. It is possible that the bug may be difficult to manage and contain malware. 
Why is security awareness important in an organization?
Security awareness training helps protect organizations from cyber threats. Preventing such occurrences that damage brand reputation and cause financial losses is the main goal. It is important that organizations and even governments put in the required investment in a timely manner to ensure you are able to act on these bugs quickly.
What areas need to be covered in security awareness programs?
Privacy laws have become very demanding in recent decades. This is due to the fact that information is accessible online. However, it is the responsibility of governments and businesses to ensure that data breaches do not occur. Security awareness programs teach phishing, bug removal, financial fraud, password security, and how to protect other sensitive information.