Everyone is well aware of the word "cryptocurrency," which is popular these days. As the rate of digital coins increases, getting higher, the greediness of the attackers is too. Cryptojacking is a category of cryptocurrency attacks. It is used by hackers, or we can say, "cryptojackers," to mine cryptocurrencies from the system's resources without the knowledge of the users. 
Hackers use cryptojacking for their personal benefit. We are here with essential information about cryptojacking. So, that your organization can detect and prevent these attacks.
According to a report, approximately 41% of mining malware detected in 2021 was performed by cryptojackers.
Subscribe to Our Newsletter On Linkedin
Sign up to Stay Tuned with the Latest Cyber Security News and Updates
What is Cryptojacking?
Cryptojacking is a method of mining cryptocurrency where threat actors inject malware into the target's system and eradicate its resources. It is also known as "malicious crypto mining," which is an emerging cyber threat where threat actors get access to the target user and exploit its resources. The process of cryptocurrency mining involves solving complicated arithmetic algorithms and equations. The miners require extensive resources to carry out crypto mining, and hackers attack the system to exploit the resources and carry out mining for themselves. With this method of cryptocurrency attack, hackers are exploiting the personal data of the target user. 
How Does Cryptojacking Work?
Devices are hacked by cybercriminals, who then install cryptojacking software. The software operates in the background, stealing cryptocurrencies from your wallets. Victims are unaware of the hacking and use their devices as usual, though they might experience lags or slower performance. There is always a procedure to deploy any attack, and cryptojacking has a few steps.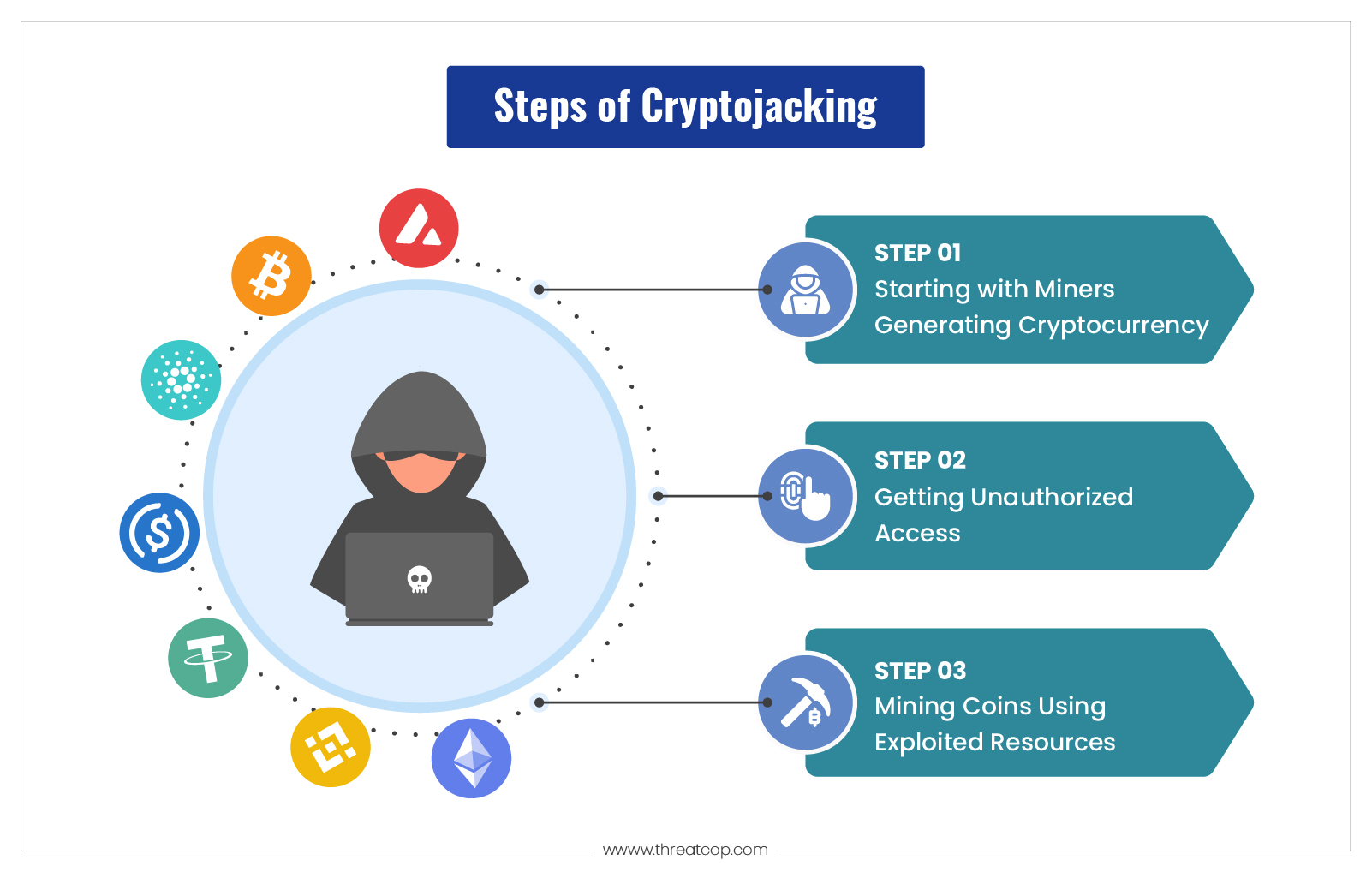 Step 1: Starting with miners generating cryptocurrency.
Mining is the process of generating new coins, which is a legal process for mining cryptocurrencies. This process consumes a lot of resources in the form of computational devices, which in turn consume an enormous amount of electrical power. To avoid such a level of investment, hackers are using the process of cryptojacking so that they can exploit others' resources for mining cryptos.
There are a lot of mining teams that carry out this process on a regular basis. They employ computers to complete complex operations. These computational problems require an amount of energy by which the mining is done.
Step 2: Getting unauthorized access.
Hackers use different types of social engineering techniques to gain access to systems. These techniques will do all the work by sending the results to the hackers. Cryptojacking is done by coding, and hackers inject it into websites through ads, phishing attacks, malicious emails, ransomware attacks, and much more.
Step 3: Mining coins using exploited resources
When the hackers have gotten access to the computer resources, they will start coin mining. The cryptocurrencies use a specific database which is known as "blockchain." The blockchain helps in regularly updating the information about all the transactions that are being conducted. All of the transactions are combined into a "block,"  which works on a complex computational algorithm. 
Cryptocurrencies rely on individuals' computing resources to start making new blocks. They reward people who supply the computing power along with the cryptocurrency through which they are able to make the new blocks. 
According to Digiconomist, the Bitcoin Energy Consumption Index estimates that one bitcoin transaction takes approximately 1,449 kWh to complete the process, which is equal to the power consumption of a household for 50 days in the US. 
What Are the Methods of Cryptojacking?
Through Apps
Hackers publish applications on the Play Store that are injected with malicious codes. When users download those applications, those malicious codes start working in the background without the users' knowledge. Through this, the hacking process is done.
A lot of users were not able to figure out the issues. However, after some checks, it was found that the app was using their computer resources for mining crypto. So, the apps can also be a way to use your resources for coin mining.  There were some apps that were published on the Microsoft Store that were doing cryptocurrency mining.
Phishing Websites
Hackers often target the most popular websites for mining cryptocurrency. They inject their malicious code through pop-up ads or JavaScript. Thereafter, when anyone opens the website, they are able to use only a marginal amount of the resources to mine cryptos. And they are unable to figure out why they are unable to access their resources at their full potential. However, some of the users who have a technical understanding can easily identify the issue.
YouTube Ads
According to the Mashable report, YouTube ads were also secretly mining cryptocurrencies. This happened in early 2018 when the CoinHiver miner was found running YouTube Ads through Google's DoubleClick platform, where the resources were being used for coin mining. However, YouTube took them off the platform after learning about this.
Extensions
The extensions that we install on our web browsers can be used for the purpose of mining by crypto miners. The hackers simply publish extensions on different web browsers, which are downloaded by the users for their purposes. However, when such extensions are installed within an organization, hackers use their resources to mine cryptos without the organization's knowledge. So, whenever you are downloading any extensions in your web browser, make sure that it is from a trusted developer. 
Organizations Critical Infrastructure
Many hackers are now targeting the company's infrastructure to mine cryptocurrencies. Nowadays, every organization has security systems to secure its data. So, if the hackers get access to even one system, then they can exploit other systems as well. Through this, hackers can get access to many systems and mine cryptocurrencies.
How To Detect Cryptojacking Attacks
It is not easy for any user to detect cryptojacking attacks if they are not aware of the methods. However, there are some ways in which you will be able to easily detect cryptojacking on your devices. 
Decrease in Performance
The first way to analyze any cryptojacking is through the performance of your device. Slower systems can be the first sign to look out for. Your organization should be alert to your device's slowness, crashes, or unusual performance. Whenever you notice any decrease in performance, then it might be that someone is hijacking your devices.
Overheating
Coin mining requires a lot of resources from your devices. So, if any hacker gets into your system and starts mining, then you will see overheating issues even if you are not using any heavy applications. You can easily notice this with your laptop's or computer's fan, which is running faster than usual. So, if something like this happens with your computer, then there are chances that some script or code is running for cryptocurrency mining.
Battery Drain
When the system's resources are being used,  the battery will drain quickly. The same will happen if some of the apps are injected with scripts that are running in the background. Due to this, the code that is running will use most of the resources of your device, which will lead to a sudden battery drain, even if you are not using anything. Then it can be said that some malicious codes or scripts are running in the background.
CPU Usage
Whenever there is an increase in CPU usage on a website with little or no media content, it could be a sign of cryptojacking scripts being run. There is a possibility that certain processes might present themselves as trustworthy to prevent you from identifying the exploitation. Additionally, your computer's operations will get slow when it is operating at full capacity, making troubleshooting more challenging.
Must Follow Tips To Prevent Cryptojacking 
Don't visit untrusted websites
If you want to prevent cryptojacking from happening, then we suggest that you don't visit any non-trustable websites. As it is an easy target to mine crypto from users, make sure that you don't visit websites that are not trusted or use more resources than usual.
Ad Blocker
Another thing that you can do to prevent cryptojacking is to block pop-ups and other ads. Pop-up ads are one of the ways through which hackers inject scripts for mining. Therefore, you can use an Adblocker extension on your web browser.
Disable JavaScript Code
JavaScript should be disabled when browsing online to avoid any infection of your device with cryptojacking codes. Remember, turning off JavaScript can block many functions you might need while browsing.
Educate your Employees
Employees reporting about the slowness or overheating of their systems is very crucial. Therefore, employee security awareness training is very important in an organization.
Our product TSAT from Threatcop offers different awareness training that will help your organization in the future. It also helps in checking the real-time cybersecurity risk. We conduct interactive evaluation sessions to assess the degree of employee awareness.
Final Thoughts
If your employees don't have any knowledge about cryptojacking and how to prevent it, then your organization might be a victim of the cryptojackers who mine cryptocurrencies using your system's resources.
To make you aware of the term "cryptojacking," we have mentioned all the required information that you need to know to protect yourself from attackers. With this article, we hope that you have all the necessary information about it.
FAQs: Cryptojacking
What is Cryptojacking?
The word "cryptojacking" means mining cryptocurrencies with the use of others' computer resources without their knowledge. 
How can you Identify Cryptojacking?
You can easily check whether you are a victim of cryptojacking or not by keeping an eye on your CPU usage, performance, battery level, overheating, etc. So, if you are facing any sudden issue with your system, then there might be chances of it. 
How can I prevent Cryptojacking on my computer?
You can easily prevent cryptojacking on your computer by following the tips we have mentioned in the article.
What are the signs of Cryptojacking?
You can easily detect Cryptojacking by checking CPU usage, battery backup, overheating, slow performance, etc. 
How common is Cryptojacking?
Nowadays, a lot of users are becoming victims of cryptojacking due to a lack of awareness. Most users click on random links, which might have been injected with malicious codes to do crypto mining.