Cybersecurity is the biggest concern for every industry today. With everything on a cloud infrastructure and virtual, it has become a highly crucial factor for online data. Plus, dependency on email communication has increased over time. Therefore, security against email-based cybercrimes like phishing attacks has also become a big priority for every organization.
What is a Phishing Attack?
A phishing attack is basically the most common but dangerous cyber attack vector that is capable of exploiting the entire data of an organization with one click! It is a fraudulent attempt to gain users' sensitive information and financial information for malicious intent. This attack is deployed via email or by creating any illegitimate web page or site of an official entity to dupe users.
It is the most successful social engineering technique used to deceive users into handing over their confidential data. Cyber threat actors usually target users by impersonating or pretending to be a legitimate source. These sources can be websites, banks, IT administrators, government agencies, auction houses, etc.
Subscribe to Our Newsletter On Linkedin
Sign up to Stay Tuned with the Latest Cyber Security News and Updates
How Does Phishing Attack Work?
A phishing attack is a threat vector where cyber fraudsters trick users to steal and exploit their data present online. The threat actors attempt phishing through email, instant messaging, voice calls, faxes, etc. The modes of these attacks are divided into two categories:
Spoofed websites: A platform to trick users into providing sensitive details on data harvesting sites by compelling them through email or SMS communication.
Malware installation: Fraudsters lure users to install malware by clicking on a download link that seems to have come from a legitimate source.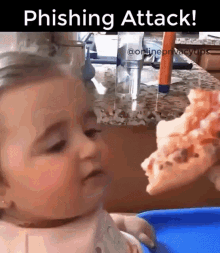 How to Protect Against a Phishing Attack?
Recently, during the time of the pandemic, there was a huge influx of phishing attacks. It is no surprise that these phishing attacks are becoming increasingly sophisticated and unprecedented in nature. But, if one takes proper preventive measures and implements better phishing attack solutions, they can avoid falling victim to it.
Here are the following ways to protect against phishing attacks:
1. Check for SSL certificate
Always check and verify the site that asks for your personal or even general information. Some URLs might begin with http:// and others with https://. The only difference is having 's' in the web address. To verify the authenticity of a website, always check for https:// and the closed lock icon on the web address.
The 's' basically stands for secure which means the website is safe to use. Also, if you click on an email link that redirects you to a website, make sure to verify the site's SSL credentials first. The SSL certificate ensures secure and encrypted data transmission over the internet.
2. Lookout for grammatical errors
When it comes to creating a look-alike website or email, threat actors can be good with coding but are often bad at writing content. Professional copywriters always ensure the quality of the content and make certain to send well-tested content with almost no errors or flaws. One can detect a phishing email or website by checking the quality of the content. For example, poor grammar, illogical content flow, etc. are most likely done by inexperienced cyber scammers or fraudsters.
3. Phishing attack simulation training
As cybercrimes are on the rise nowadays, organizations are expected to buckle up and train their employees for unpredicted future security threats. The best way is to educate employees about the importance of cybersecurity in an organization and what preventive measures they should take to mitigate cyber risks. Also, seeing how employees are the most vulnerable resource in any organization, it is important to train them with the help of phishing attack simulation. There are tools that offer training in phishing attack simulation for employees to make them proactive in identifying phishing websites and emails.
4. Pop-ups are not always friendly
Avoid entering your personal information into pop-ups that appear on insecure websites. These pop-ups use Iframe technology to capture the user's information and send it to a different domain. Although renowned and reputed websites will never ask for personal information via pop-ups, forged domains and spoofed sites can easily trick users into handing over their sensitive information.
5. Phishing Incident Response Tool
Not every email landing in your inbox is a legitimate email because, according to an article published by Dark Reading, 1 out of 99 emails is a phishing attack. Similarly, every 1 in 25 branded emails is a phishing email.
Therefore, it is important to verify emails to check their authenticity, and to do so, there are various advanced email security solutions available today. If you find an email suspicious and fraudulent in nature, make sure to report it using the Threatcop phishing incident response tool for verification. Such tools provide real-time service to report, verify, and resolve email-related issues.
6. Stay Cautious of Shortened Links
The best way to trick any user into clicking on malicious or fake links is by sending shortened links that do not expose the real name of a website. Hackers use these shortened links to redirect users to fraud websites and obtain their personal information easily. To avoid becoming a target of such scams, always place the cursor on the provided short link to check the redirecting location before clicking on it.
7. Update all security patches
Keeping all the security patches up-to-date will not only mitigate the chances of cyber attacks but also offer a cyber-resilient working environment. Hackers and cybercriminals actively look for vulnerabilities in systems, software, or applications to gain unauthorized access and exploit users' data. For best practice, always keep your system and web browsers up to date with the latest versions. The main purpose of this is that all these recent updates are released in response to security loopholes that hackers and cyber attackers seek.
8. Avoid unexpected alarming emails
One of the best techniques phishers use is sending panic-creating emails that contain alarming content. These emails are popular with subject lines such as Alert, Deadline, Urgent Request, etc., to provoke users to respond.
It is always better to avoid such emails, especially the unexpected ones that ask for urgent data submission or requests for downloads. You must always get such emails verified by the IT security administrator of your organization before taking any action to revert.
9. Double-check the sender's email address
The first step to identifying whether an email is legitimate or not is to always check the email address of the sender. Threat actors create spoofed email addresses to dupe users into thinking that the email has come from a legitimate source. Moreover, without giving a second glance, victims directly reach for email attachments. It is important to comprehend the mindset of phishers works and how they can make us vulnerable or exploit our negligence.
10. Anti-phishing, Fraud Monitoring & Takedown Tool
An organization's reputation is very important on a digital platform as today most of its business comes from online resources and research. Your brand represents your reputation online, so it is essential to monitor activities taking place online in the name of your firm. Cyber fraudsters have now become more advanced and are using more complex methods to trick users of their malicious intent.
Phishing websites are one of the most widely used platforms to dupe and divert customers from the legitimate websites of an organization to look-alike fraud pages. Security admins must implement an anti-phishing, fraud monitoring, and takedown tool to monitor phishing and fraud activities taking place in the name of the organization. Once tracked, these fake domains can be instantly taken down by the web browser to stop copyright infringement online.
Guidelines for Best Defense Against Phishing
To defend against phishing, one must follow some standard practices that are listed below.
Update Software and Operating System
For the best phishing protection, always keep the version of your operating system up to date so as to avoid any sort of malware attack. Outdated software or operating systems hold way too many bugs and hence become an easy target for phishing attacks.
Avoid Password Auto-Fill Service
Phishers are experts at using platforms to attempt a phishing attack, so it is better to skip the "save password" option if it pops up on any website. This step will help keep your information secure from hackers.
Two-Factor Authentication
It is better to adopt the latest technologies for security purposes if they come from the right sources. Two-factor authentication is a widely used technique to secure data and financial information from unauthorized access.
Use Google Drive for Suspicious Documents
If you find any document sent from an unknown sender or receive a dubious-looking file, make sure to upload it on Google Drive. This would turn a document into an image or HTML, which in turn would prevent the installation of malware on your device.
Deploy Anti-phishing Solutions
One of the major issues of 2019 is the alarming increase in phishing activities. Every internet user, be it a businessman, a corporate employee, or an online shopper, is under the phisher's radar, 24*7. Only anti-phishing solutions can help netizens avoid becoming the target of cyber crooks who deploy phishing attacks.
Why Are Anti-phishing Solutions Effective?
The introduction of various anti-phishing software or anti-phishing services has helped various cyber users and organizations prevent phishing attacks. Apart from that, anti-phishing tools serve as a great barrier against malicious attacks and secure the data of your clients. Let's take a more detailed look at the matter:
Cost-effective For Organizations
It's better to invest money in phishing countermeasures like anti-phishing services rather than lose money to cyber-attacks. Anti-phishing solutions save you from severe financial losses, and they will definitely pay off in the future.
Secure Brand Reputation
Anti-phishing solutions save the brand name of your organization from fraud techniques that take advantage of a brand's reputation. Attackers usually misuse brand names by charging payments from customers in return for a fake promise of providing services.
Security of Confidential Corporate Information
Phishers not only look at the company's credentials but also try to exploit corporate secrets. Anti-phishing software helps in securing your company's confidential information from being leaked or misused.
Fewer Chances of Human Error
The main focus of anti-phishing solutions is to train employees and help them avoid making any sort of errors. When it comes to stealing credentials, hackers use various tricks to trick users into giving up personal information.
Protecting Customers
When it comes to impersonating and tricking people to steal their data, nothing can beat phishers. Phishing attacks can target clients and deceive them to get their financial information in the name of the organization, thus exploiting the customer's trust.
Prevent Phishing Attacks using TSAT
Phishing is a constant threat, and emails are the top priority of attackers to deliver any malware. Most phishing attacks occur because of employee negligence and unawareness. That's why organizations need services or tools for cybersecurity awareness training, such as Threatcop security awareness training, which provides a comprehensive framework for simulating phishing attacks and educating employees on how to prevent them.
TDMARC: Anti-phishing Solution for Email Security
TDMARC is an anti-phishing software that helps organizations detect phishing content in emails and take action against it according to the user's policies. It gives a complete and detailed analysis of emails on various email authentication factors such as SPF and DKIM checks. Prevent brand abuse and secure customers' trust in your brand with one of the leading anti-phishing solutions across the globe.
With the help of this beneficial anti-phishing service, KDMARC provides email domains with a consistent policy to deal with messages that fail to authenticate. It protects employees from fraud and phishing emails by disallowing unauthorized usage of the email domain. Secure your mailbox by securing your domain with righteous anti-phishing software.