The world is now more connected than ever before. Businesses are becoming more vulnerable to hackers as they host most of their data online, including customer data. Nowadays, the increase in cybercrime is becoming a huge problem. More than 70 people and organizations that teamed up to commit the most serious crimes against the U.S. are on the FBI's list of Cyber Most Wanted. The cyber attack must be purposeful and not accidental in order to qualify as cybercrime.
The most disturbing fact is that cybercriminals are becoming more organized and agile, taking advantage of new technologies, customizing their attacks, and forming partnerships. By the end of the 21st century, hardly a hamlet left on the planet had not been affected in some way by cybercrime.
Subscribe to Our Newsletter On Linkedin
Sign up to Stay Tuned with the Latest Cyber Security News and Updates
What is Cybercrime?
Cybercrime is a criminal activity that targets individuals or computing devices, networks, or data centers. Cybercrimes are committed by both individuals and threat groups. Some online criminals are well-organized and they employ cutting-edge methods along with advanced technical skills. The primary motive of a cybercriminal is to leverage every possible thing that causes damage to IT infrastructure for financial gain. Apart from financial gain, they might carry it out for either a personal or political purpose.
Is Cybercrime Increasing?
Cybercriminals aim to directly steal passwords, data, or money by taking advantage of security or human flaws. There is a vast range in the size and sophistication of cyber attacks. Because of phishing as a service provider, criminals with less technical knowledge can now engage in cybercrime. Malware's ever-evolving technical skills lead to ever-evolving harm and the facilitation of new crimes, such as cryptojacking, a type of cryptocurrency attack.
In the last ten years, the number of reports of cybercrime has skyrocketed. By 2020 there have been over 4.7 million reports in comparison to 2010. This signifies a growth of over 300% in 2020, which cost the economy trillions. There is a drastic increase in cybercrime, so organizations should employ the best possible security tools to secure their future.
 In 2022, it was predicted by Statista, that cybercrime would cost the world $8.4 trillion. By 2023, the cost of incidents brought on by illicit online activity is expected to exceed $11 trillion. An increase in cybercrime also increases expenses. Cybercrime expenses might reach $20 trillion annually by 2026, a nearly 150 percent rise from 2022.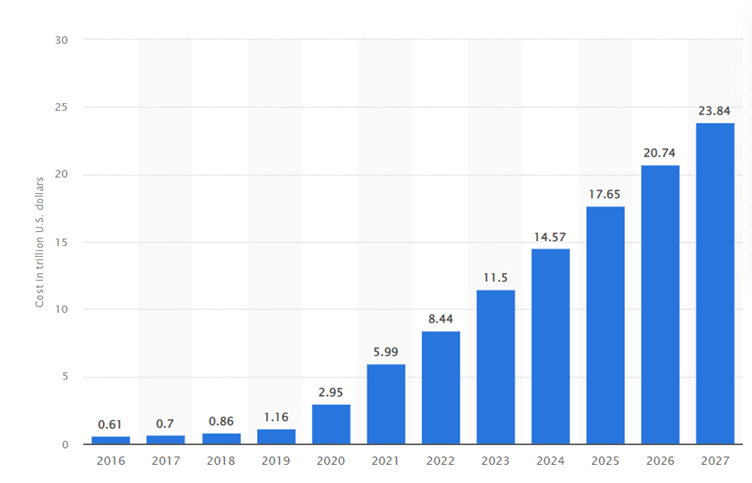 Why is Cybercrime Increasing?
With the advent of cloud computing, organizations are storing their data online. And it has become a target for threat actors to steal information. The most financially damaging cybercrime is information theft, which is increasing at an unprecedented rate. They are primarily caused by the growing dissemination of identity information on the web by means of cloud services. However, it is not the only one. There is an immense possibility of destroying or disrupting power grid controls and other infrastructure. Cyber attacks aren't just about identity theft; they can also serve as a means of cultivating distrust in organizations or governments.
Cybercriminals are evolving and becoming more sophisticated. They are constantly evolving their attack vectors based on the targets they choose. They can impact businesses, disrupt their security systems, and exploit their critical infrastructure. 
There are multiple types of social engineering attacks to get unauthorized access to a computer system. With different techniques available to the attackers, it has become quite easy for them to breach any organization's data. The following are some elements influencing the increase in cybercrime:
The internet's distributed nature

Cybercriminals' capacity to attack outside of their jurisdiction causes legislative action extremely challenging

The

dark web

is becoming the platform for profitable and user-friendly for cybercrime businesses
What are the Impacts of Cybercrime?
Cybercrime can impact an organization in different ways. No matter what kind of cyber attack a hacker employs on your organization, it affects it in one way or another. And the losses cannot be comprehended from before, which is why cybercrimes have become prime concerns for organizations.
The impact of cybercrime is influenced by various factors. One of the prime factors for cybercrime is the lack of cybersecurity practices. Every organization must employ best cybersecurity practices to ensure a robust security framework. 
Increased Cost
Financial gain is one of the main objectives of cybercrime. In addition, ransomware attacks can incur a significant financial burden by preventing employees from accessing their systems without paying a ransom. Companies must invest in a variety of things to protect themselves, like cybersecurity awareness training and email security solutions.
Operational Disruption
Sometimes companies face indirect financial damage from cyber attacks, such as the potential for a significant interruption in business operations and associated revenue loss. Technology is becoming more sophisticated and similarly, hackers are also becoming more sophisticated. Either they infect computer systems with malware or inject malicious code on a server that prevents users from accessing the device.
Reputational Cost
Businesses that have been the target of serious cyber attacks may experience significant damage to their company's reputation. This happens because customers and even investors start to feel insecure about trusting a business whose IT infrastructure is not safe.
One of the worst effects of a cyber attack is a sudden decline in sales. When your customers learn about the attack, they start to move elsewhere to protect themselves from the possible data breach.
What are the Economic Costs of an Increase in Cybercrime?
Data damage, intellectual property theft, financial theft, etc. are some of the factors contributing to the increase in cybercrime costs. When data is lost, the business must work long hours to recover it. An organization has a reputation among its investors and customers. According to FBI news, the cost of cybercrime will reach $2.7 billion in 2020.
According to Cybersecurity Venture, in the next few years, the cost of cybercrime will increase by 15% annually, reaching $10.5 trillion by 2025.
Major Statistics of Cybercrime: 2021 – 2022
The following are some outrageous statistics showing just how severely these cyber attacks are affecting the global economy: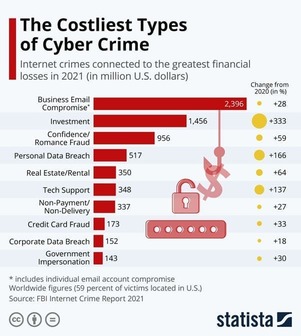 How Can Organizations Prevent Cybercrimes?
How Can Organizations Prepare for the Fight Against Cybercrime?
As the rise in cybercrime is showing no signs of slowing down, it is essential for organizations to take the necessary precautions to avoid suffering losses. The three most critical aspects are its people, processes, and data. By focusing their resources on protecting these three elements, organizations can arm themselves against all kinds of prevalent and emerging cyber threats.
Protecting People
Education about the most common cybersecurity threats is the best way to defend your staff members against cyber attacks. Employees who lack cybersecurity awareness are at the risk of unintentionally causing data breaches that put your business at risk. According to a report, providing employees with cybersecurity awareness training significantly lowers human error, reducing cyber risks by up to 90%.
Due to the dramatic increase in cybercrime, providing your employees with cybersecurity awareness training has become more important than ever. An organization cannot protect its finances, assets, and reputation from cybercriminals without spreading awareness amongst its employees.
TSAT by Threatcop is the comprehensive cybersecurity awareness tool that helps in securing your workforce against various kinds of cyber attacks. It offers an array of dynamic features to assess your organization's real-time threat posture and to reduce cybercrime.
Organizations can also implement a phishing incident response tool like TPIR to empower employees to report any suspicious-looking emails immediately.
Protecting Processes
It is essential for an organization's IT department to continually monitor, review, and update all organizational processes. Employees should be made aware of the consequences of installing applications or software on their systems without the knowledge or approval of the IT department.
Any known vulnerabilities should be constantly monitored by the organization. Companies can provide protected and locked systems for their employees. This can be an effective way of restricting them from installing any malicious software.
Protecting Data
An organization must have a firm grip on the data it holds, processes, and passes on. According to a recent study, companies share sensitive and confidential information with more than 500 third parties. The first and foremost step an organization should take is to conduct an inventory and ensure any information shared is strictly on a need-to-know basis.
Secondly, make sure to encrypt all sensitive data, including employee information, all business data, and customer information. This ensures that the data becomes useless if it falls into the wrong hands. Also, always take regular backups of all your data and store them securely outside your network.
As the increase in cybercrime shows no signs of slowing down, individuals and organizations alike are equally at risk. Therefore, it has become extremely important to take the necessary precautions and keep essential cybersecurity tips in mind for defending yourselves and your organizations against these threats.
Final Thoughts: Increase in Cybercrime
As you can see, continually emerging cyber risks pose a threat to our society's future. Be sure to educate your organization on these cyber threats so you can implement appropriate security measures to resolve them.
The future of the internet is at continuous risk from evolving cyber attacks. As a result, familiarize your employees with these risks and secure your networks and digital devices. We at Threatcop can help your organization arrange the best comprehensive suite of security awareness programs in one package. To get rid of human error and employee negligence.