As Cybersecurity Awareness upon us, you might wonder why it's necessary. But it's crucial to understand that cybersecurity is often misunderstood, thanks to common misconceptions and myths. Cyberattacks aren't usually like scenes from a Hollywood movie where a hacker frantically types away to break into a website or server's core. Instead, cyberattacks typically involve everyday people becoming victims by falling prey to phishing attempts via email or text messages, or unknowingly introducing harmful software by plugging in a mysterious USB drive into their computer.
Subscribe to Our Newsletter On Linkedin
Sign up to Stay Tuned with the Latest Cyber Security News and Updates
Cybercrime impacts everyone, from large global businesses to local communities and individuals. Over recent years, these risks have grown significantly. Consider these facts:
Data breaches, on average, cost organizations around $4.45 million.

Ransomware attacks affected nearly 73% of global businesses this year.

Phishing, a prevalent threat, resulted in approximately 8 billion spam emails sent in the U.S. alone.

In 2023, there have been over 5.7 million mobile malware and adware attacks targeting smartphone users.

Identity fraud occurs every 22 seconds, and more than one-third of Americans have experienced identity theft, with this rate expected to rise.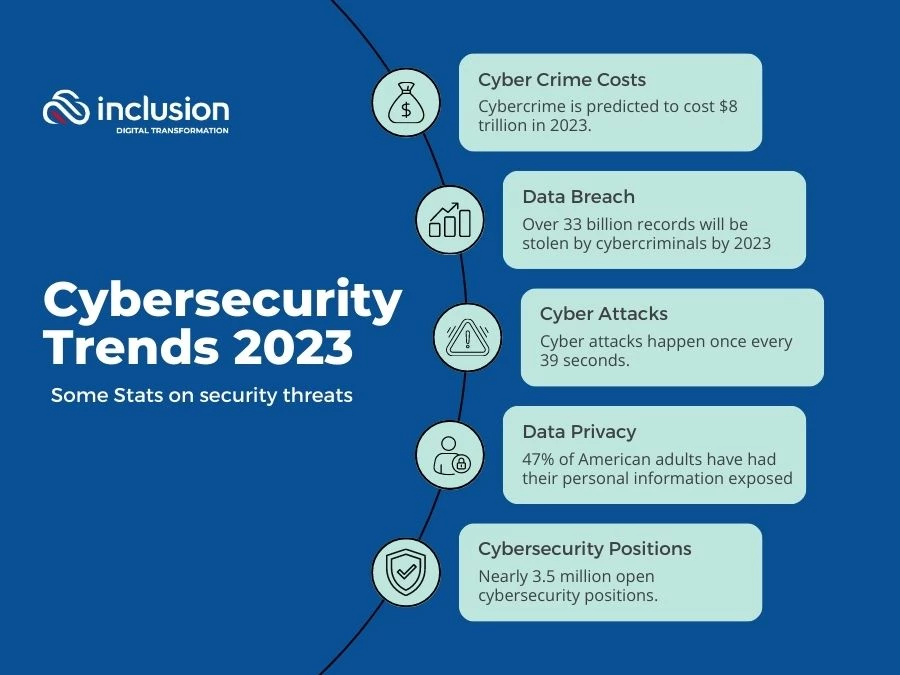 Considering these facts, we have to accept that cybersecurity is more important than ever. We all rely on the internet for many aspects of our lives, from work and school to shopping and entertainment. It's essential to be aware of the cybersecurity risks out there and to take steps to protect ourselves.
With technological advancements, the risks lurking in the digital realm continue to evolve. In 2023's Cybersecurity Awareness Month, Threatcop emphasizes the critical need for enterprises to strengthen their people with this year's theme Secure Our World. Throughout October, Threatcop is dedicated to championing National Cybersecurity Awareness Month (NCSAM) through awareness initiatives, all aimed at empowering your people thorough People Security Management.
Tips For You To Have A Great Cybersecurity Awareness Month 2023
October is a time when we encourage open conversations about why cybersecurity matters, the dangers we face right now, and how we can keep making advancements in protecting ourselves.
In October, NIST is teaming up with various government agencies to highlight some important tips for better online security awareness. Threatcop supports these four key online safety practices that businesses can focus on to secure its people. These practices can help make your online experiences safer and better protect against future threats.
Use Multi-Factor Authentication (MFA)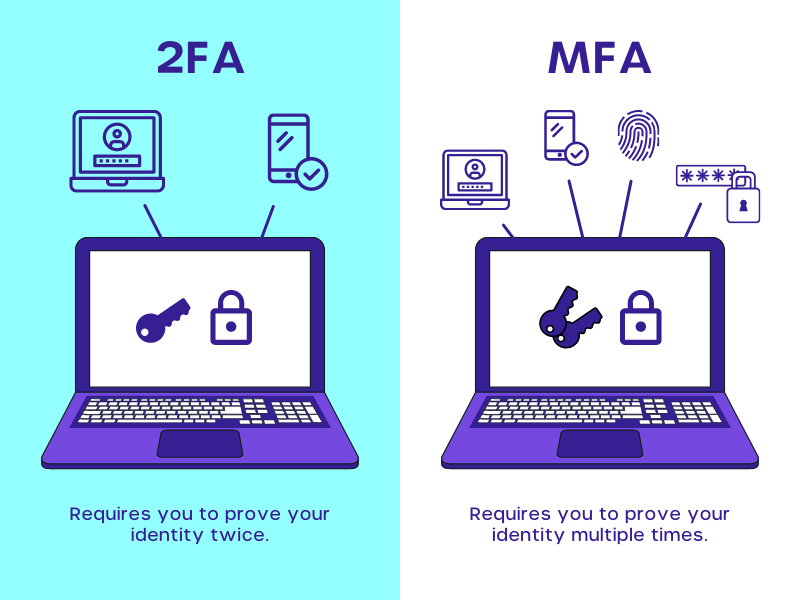 Think of MFA as adding an extra layer of security to your online accounts. Instead of relying only on passwords, MFA requires you to provide another form of proof that you're really you when you log in. This might be something you know (like a password) and something you have (like a code sent to your phone). It's like having a double lock on your digital door, and it makes it much harder for bad actors to get in.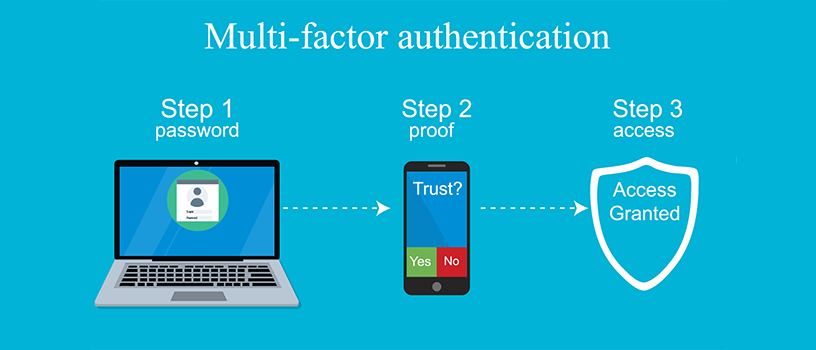 If you're a business, start by figuring out which parts of your operations need the most protection and implement MFA there first. Choose MFA methods that work best for your needs and your employees' preferences, like codes sent to phones or fingerprint scans. Make sure it works smoothly with your current systems, and train your employees on how to use it. Keep updating your MFA practices as security threats change over time.
2. Strengthen Your Passwords
In our increasingly digital lives, the importance of password security and managing our online identities is more evident than ever. Recent predictions indicate that the use of digital identity apps will exceed 4.1 billion globally by 2027, nearly doubling from 2.3 billion in 2023.
The strength and complexity of your passwords play a crucial role in safeguarding your accounts from unauthorized access. However, many users tend to opt for easily memorable but weak passwords. This is where password managers come into play. These tools are designed to simplify and enhance password management by generating and securely storing strong, unique passwords for each of your online accounts. Instead of struggling to remember a multitude of complex combinations, users only need to recall a single, robust master password.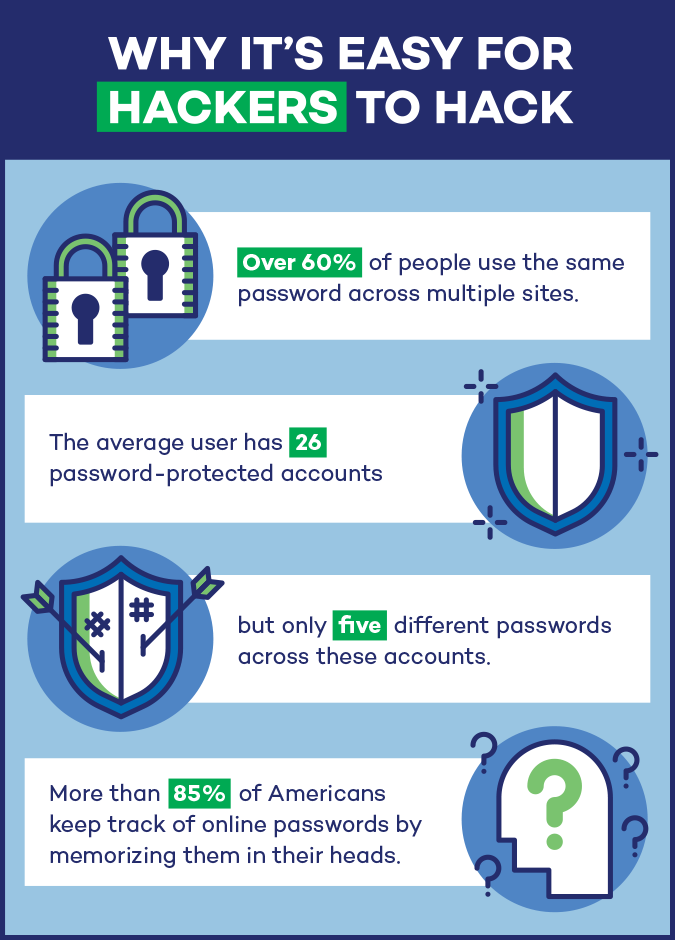 Password managers significantly reduce the risk of brute force or dictionary attacks. They discourage the reuse of weak passwords across different accounts by eliminating the need for users to memorize multiple passwords. Many available tools also offer features such as password strength assessment, multi-factor authentication (MFA), and secure password sharing for added security.
What you can do to improve password security practices within their organizations:
Establish regular password change policies but avoid overly frequent rotations to prevent users from resorting to easily memorable passwords.

Prohibit the reuse of previous passwords by maintaining a history of past passwords to discourage recycling potentially compromised ones.

Implement account lockout policies that temporarily suspend accounts after a certain number of failed login attempts to deter brute force attacks.

Provide ongoing cybersecurity education and training to employees, ensuring they grasp the significance of strong passwords, can identify social engineering attempts, and adhere to best people security practices.

Conduct routine security audits and assessments to identify and promptly address weak or compromised passwords.

Implement Privileged Access Management (PAM) solutions for stringent control and monitoring of access to critical systems and data, including robust password management for privileged accounts.
To mark Cybersecurity Awareness Month, Threatcop collaborated with 31 respected CISOs and CTOs from prominent organizations. Together, we're working towards a safer digital future.
Explore Here: 31 Cybersecurity Awareness Ideas from 31 Security Leaders
3. Stay Safe with Software Updates
Keeping your software up to date is like regularly fixing the locks on your doors. It helps protect against bad actors who might try to exploit any vulnerabilities they find. Software companies often release updates to fix known problems and security risks in their products. If you don't apply these updates promptly, it's like leaving your digital front door open to all sorts of cyber threats, from viruses and ransomware to data breaches. Cybercriminals are quick to jump on these weaknesses, so making sure your software is always up to date is a top priority for IT teams.
The consequences of not taking this seriously can be severe. A breach can result in big financial losses, harm your organization's reputation, and even lead to legal trouble. In reality, dealing with the aftermath of a successful cyberattack often takes a lot more time and resources than just keeping your software updated in the first place.
4. Be a Detective: Spot and Report Phishing
Phishing used to be pretty obvious with bad spelling and generic emails, but it's evolved into something much trickier. Nowadays, cybercriminals are really good at it. They use clever tricks and sometimes pretend to be people or companies you trust. Even if you're careful, you can still fall for it.
In the business world, phishing is often the first step for big attacks like data breaches, ransomware, or stealing money. So, it's up to all of us to watch out for these sneaky tricks. If you see something fishy in an email, like strange links or attachments, or if you're just not sure about an email's source, report it right away. Your quick action can help stop these cyber bad guys and protect our company's important information. So, always be on the lookout and don't be afraid to speak up if you see something suspicious.
How can you develop their phishing awareness and reporting policies:
Educate employees about phishing. Train them on how to recognize phishing attempts, verify email sources, and report suspicious emails promptly. Also, teach them how to validate the legitimacy of websites and links in emails.

Implement email authentication protocols. These protocols can help prevent email spoofing and domain impersonation.

Develop and enforce security policies and procedures. These policies should cover email and communication security, and employees should be aware of and follow them.

Use endpoint security solutions. These solutions can detect and prevent malware downloads and malicious activity stemming from phishing emails.

Monitor email traffic and user behavior. This can help detect anomalies and suspicious activities.
Subscribe to Our Newsletter On Linkedin
Sign up to Stay Tuned with the Latest Cyber Security News and Updates
Cybersecurity is a Not a Big Deal with People Security Management
Cybersecurity isn't just about protecting our personal information; it's also about making sure businesses, governments, and whole economies can keep running smoothly. Right now, the best way to stay safe in this digital world is to learn more about the threats out there. Securing your people by sharing tips and best practices during events like Cybersecurity Awareness Month, we can help everyone. People Security Management can help every one from regular folks to big organizations, get better at defending themselves against cyberattacks and other online dangers.
Building a community that's all about sharing information on cyber threats is a great idea. It means experts, security folks, and anyone interested in this stuff can work together. When we put our heads together and share what we know, it makes everyone safer online. It's like having a big team working to keep the internet a safer place for all of us.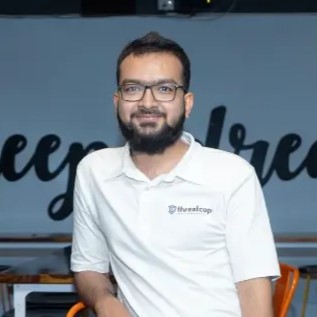 Co-Founder & COO at Threatcop 
Department: Operations and Marketing
Dip Jung Thapa, Chief Operating Officer (COO) of Threatcop, a leading cybersecurity company dedicated to enhancing people security management for businesses. With a profound understanding of cybersecurity issues, Dip plays a pivotal role in driving Threatcop's mission to safeguard people's digital lives. 
Co-Founder & COO at Threatcop  Department: Operations and Marketing Dip Jung Thapa, Chief Operating Officer (COO) of Threatcop, a leading cybersecurity company dedicated to enhancing people security management for businesses. With a profound understanding of cybersecurity issues, Dip plays a pivotal role in driving Threatcop's mission to safeguard people's digital lives.