Email security is one of the most important elements of an organization's cybersecurity. Every day, threat actors send billions of phishing emails targeting organizations to breach their security. In response to such threats, organizations must know how to implement DMARC properly so that email security can be ensured.
According to the FBI's IC3, there were 19,369 BEC (Business Email Compromise) reports in 2020 that incurred a loss of over $1.8 billion to organizations.
In 2012, various tech giants such as Google, Yahoo, Paypal, and Microsoft developed a protocol to assist SMTP (Simple Mail Transfer Protocol) to ensure email security. That protocol was DMARC. And 10 years down the line, many organizations still have not employed it. According to an article by Dark Reading, even up to April 2021, only 76% of Fortune 500 companies have implemented DMARC on their email servers.
Subscribe to Our Newsletter On Linkedin
Sign up to Stay Tuned with the Latest Cyber Security News and Updates
What is DMARC?
DMARC stands for Domain-based Message Authentication Reporting and Conformance. It is an email authentication protocol that is used to set a policy for emails that have failed either SPF or DKIM. In simpler terms, DMARC provides an organization's administrators with insights into all the emails that are being sent from their domains. It provides them with detailed information related to their outbound email channels.
The primary objective of DMARC is to prevent the forgery and misuse of an email domain. Threat actors can use spoofing and phishing mechanisms to carry out email-based attacks. DMARC secures email domains from such attacks. DMARC is implemented in the form of three policies that are named "none," "quarantine, and "reject."
DMARC is aligned with Sender's Policy Framework (SPF) and DomainKeys Identified Mail (DKIM) to provide comprehensive security to the email domain. A DMARC record is published in the form of a TXT record on the DNS, which is aligned with the organization's exchange server policies. 
Why is DMARC Important for Organizations?
DMARC is one of the crucial email authentication protocols that define a set of rules in the form of policies to handle emails that aren't authenticated by SPF and DKIM. It helps in ensuring the security of outbound email flow, which in turn boosts the domain's reputation and email deliverability.
Cybercriminals use email spoofing as the primary mechanism for sending spam emails. They can impersonate your organization's email domain to send fake emails to your employees or customers. This can adversely impact organizations in many ways. When DMARC is implemented, threat actors are unable to impersonate or forge an email domain. Additionally, DMARC helps in increasing domain reputation and email deliverability.
DMARC can be implemented through a web-based interface on DNS. However, it can prove to be an extremely complicated procedure that can result in various mistakes. To resolve this issue and inculcate simplicity in the process, a web-based and SaaS-modeled software like Threatcop DMARC can be used.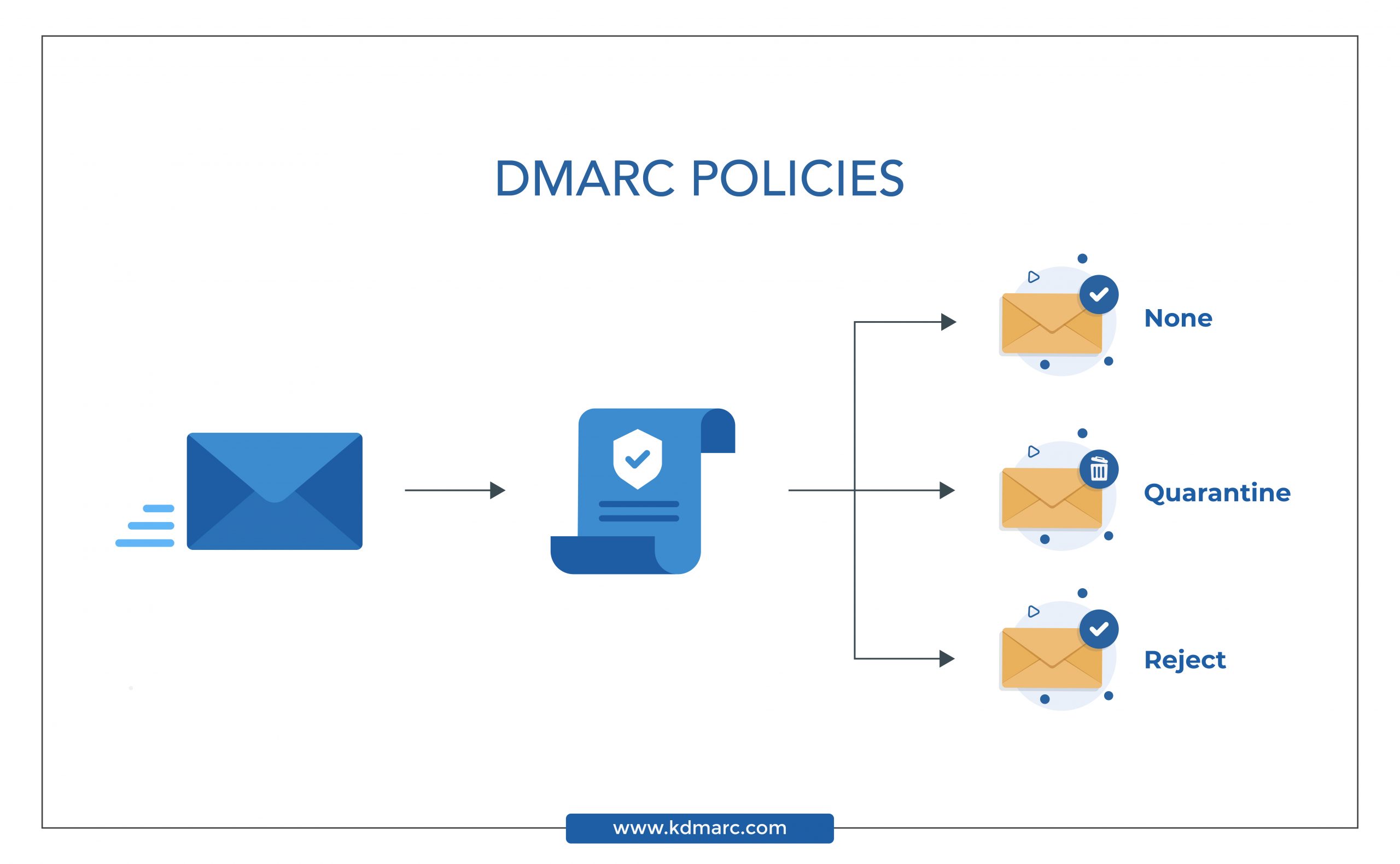 How to Implement DMARC and Ensure Email Security?
Primarily, there are two methods of implementing DMARC. One is done directly through the DNS, while the other is done through a SaaS-based software like TDMARC. Implementing DMARC directly through the DNS is a time-consuming, tedious, and complex task. It is quite possible that configuration and updates could turn out to be incorrect, leading to authentication failure of emails. 
Consequently, most organizations prefer using DMARC implementation tools like TDMARC to secure their email domain. Even if an organization gets another domain or new IP, TDMARC would allow the administrator to make the updates in DMARC easily and comfortably. While implementing DMARC, TDMARC goes through four steps as mentioned below:
Check DMARC Record
TDMARC analyses the already existing DMARC record of the organization's domain to check if it is secure. It is essential for the DMARC record to be properly set to effectively prevent malicious emails from entering the inbox. After thorough checking and analysis, it creates a new DMARC record that encapsulates the existing one. 
Generate DMARC Record
If the organization's domain does not have a DMARC record, the tool assists in generating a new one with the help of a questionnaire filled by the domain owner. There are different variables in the DMARC record against whom the specific values are set. Thus, it is crucial to choose the right parameters and write in the proper syntactic manner. TDMARC allows the generation of the DMARC record in an easy and flexible manner. 
Update DMARC Record on DNS
Once the DMARC record is created, the user is required to update it on the DNS. It is essential to replace any other existing DMARC records, if any, with the new one. When one needs to change DMARC policies or modify other parameters of the DMARC record, directly making changes to the DNS is risky as there is a chance of making mistakes. Again, TDMARC comes to the rescue as it allows the user to view the current DMARC record and make the necessary modifications from the dashboard itself. 
Generate a Report and Display Statistics on the Dashboard 
TDMARC provides an interactive dashboard where users can view the status of their DMARC policies and outbound emails. TDMARC generates a report on all the emails and actions taken on a periodic basis. The dashboard also presents various kinds of statistics in a real-time scenario.
How Can TDMARC Benefit Organizations?
Threatcop DMARC is an expertly designed tool that helps organizations effortlessly and properly implement DMARC on one or more of their domains. Ensuring easy multi-domain management, not only provides you with full visibility into your outbound email channels but also helps in improving your domain's email deliverability and engagement rates. With the help of its smart features, you can easily modify your domain's DMARC and SPF records with a few clicks.
Benefits of TDMARC:
Creation of a well-defined policy for dealing with messages that fail to authenticate
Complete security of the email domain from spoofing and fraudulent activities
Protection against email tampering
Customer protection and brand infringement prevention
Obtaining full insights into your email channel
Increase in the deliverability rate of your emails
Detecting and preventing email spoofing
Boosts email engagement rates